Las Vegas - Population 350,000 (metro 900,000)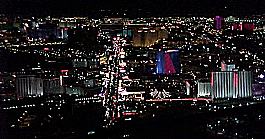 Las Vegas, once an oasis on the route to California, began as a Mormon settlement and boomed fleetingly during the silver rush. But unlike towns that went bust and stayed bust, the township revived with ranching in the late 1800's and the coming of the railroad in 1905.


In the following years, the city developed as an agricultural centre. the legalisation of gambling in Nevada in 1931 paved the way for change, and after World War II a great deal of investment capital was poured into the development of Las Vegas as a resort centre.