Williams - Population 2,500, elev. 6,752'
Williams was named after Bill Williams, the early mountain man who guided trapping parties and expeditions through the wilderness. On Memorial Day weekend he is honoured during the Bill Williams Rendezvous Days. Rendezvous Days events include arts and crafts exhibits, music, a parade, carnival, black powder shooting competition and rodeo, train rides and silent movies. Principally a resort town, Williams marks the beginning of the major entrance route to the Grand Canyon National Park.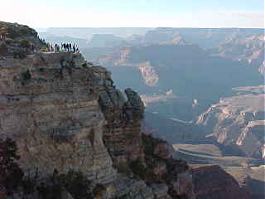 (for a full screen picture, click here)
The Grand Canyon of the Colorado River is one of the world's outstanding spectacles. In form, size, glowing colour or geological significance, nothing else approaches it. Although the Canyon is 440km (277 miles) long, it averages only 16km (10 miles) in width from rim to rim; it is 1,740m (5,700 feet) deep measured from the North Rim which averages about 366m (1,200 feet) higher than the South Rim. The Grand Canyon region possesses five of the seven ecological zones ascribed to the Northern Hemisphere.