San Diego - Population: 1,000,000 (Metro 2,500,000)
The southermost city in California has a Mexican flavour because of its proximity to Mexico's border city of Tijuana. Spreading from the coast to the desert, the scenery includes cliffs, hills, mesas, canyons and valleys.The city hovers around one of California's greatest natural harbours.This ideal location has been a dominant factor in determining the city's history, economy and development.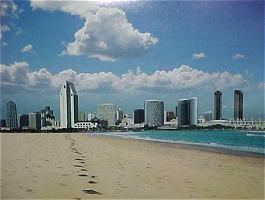 Today, San Diego is home of the largest naval air station on the West Coast. Its bay, headquarters for many Pacific fleet operations of the US Navy, also harbours the nation's largest tuna fleet. San Diego is also a recreational paradise. Leisure activities include miles of sandy beaches and inviting bays for basking in the sun, swimming, surfing, sailing, waterskiing, tennis, hiking, cycling - the list is endless!